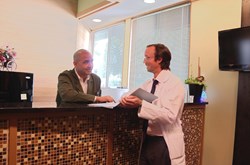 Lynnwood and Federal Way, Washington (PRWEB) December 17, 2013
Innovative Men's Clinic has opened two new locations in Federal Way and Lynnwood, Washington. Focused on the diagnosis and treatment of erectile dysfunction and low testosterone, the doctors at Innovative Men's Clinic provide treatments that are customized to meet your specific needs, rather than other clinics that offer one-sized fits all approaches.
Innovative Men's Clinic is now offering new patient visits for only $ 99 that include lab testing for testosterone levels with results during the visit and satisfaction guaranteed or they'll refund the $ 99 visit fee.
Currently, over 13 million men in the U.S. aged 40 and older have low testosterone levels, and Innovative Men's Clinic offers solutions for these men who may be experiencing fatigue, decreased energy and strength, loss of motivation, weight gain, ED problems, and decreased libido. The clinic uses comprehensive blood testing to measure your testosterone, estrogen, and other important hormone levels to help look for the cause of your health concerns. Low testosterone treatment can help men who are deficient in testosterone feel renewed and more youthful.
At the Innovative Men's Clinic we believe that life should get better as we age and modern medicine can help. Our goal is always to maximize benefits and reduce risks. Other clinics may use inferior approaches that put the patient at risk. Our concierge clinics and experienced doctors are passionate about helping men improve their lives, Barry Wheeler, ND, Medical Director.
For more information on our innovative low testosterone treatment and other men's health treatments, call (425) 455-1700 or visit innovativemen.com.