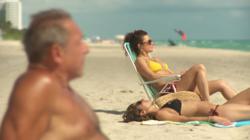 Miami, FL (PRWEB) February 26, 2013
Hormone therapy doctors in Miami say they are seeing an increase in men coming in with symptoms of low testosterone.
"A lot of my male patients actually feel like they're shadows of their former selves but in as little as three to four weeks on a medically monitored testosterone replacement therapy they feel and perform dramatically better," says AAG Health Medical Director, Dr. Victor Shabanah.
The condition, known as Low T, affects approximately 14 million men across the U.S. Low testosterone levels can cause a number of problems that chisel away a man's performance and appearance. Often times a deficiency in testosterone is a side effect of other issues like obesity and diabetes.
"When most men see their own healthcare providers they might only be treated for a specific aspect of their complaint, for erectile dysfunction, or depression, for ADHD, not really realizing they have low testosterone," says Dr. Shabanah.
The condition can be treated a number of ways, including injections, surgically implanted pellets and gels applied to the skin. Dr. Shabanah says most treatments are not covered by insurance yet AAG Health has seen a surge in men who want to get testosterone therapy and are willing to pay out of pocket.
"I'm not sure if the increase in cases of Low T is because more men are educated on the subject and are willing to get tested for it or, if lifestyle and environment factors, in particular, chemicals called Endocrine Disruptors, which interfere with the endocrine (hormone) system are to blame," continues Dr. Shabanah.
About AAG Health & Wellness
AAG Health & Wellness is the leading nationwide provider of age management medical services that promote hormone medications. Founded in 2003 and headquartered in Miami, FL, AAG Health is a concierge-style medical practice that provides successful mean and women cutting-edge treatment plans that deliver peak performance and higher quality of life. AAG Health has a network of over 25 medical health centers throughout the United States. For more information, visit http://www.aagmiami.com
About Dr. Frank Welch
Dr. Welch is Board Certified by the American Board of Preventive Medicine. He has worked in both academic and public health civil service for 15 years and is a highly experienced age management and hormone replacement physician. Dr. Welch is certified in anti-aging medicine with a special interest in diet and nutrition, weight loss, treatment of male menopause, treatments for androgen deficiency including testosterone replacement treatments. He is a founding member of AAG Health's Medical Advisory Board and currently serves as Medial Director, AAG Health Miami, FL.