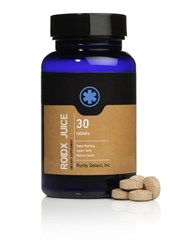 Boonton, NJ (PRWEB) August 05, 2013
Roid Juice by HGH.com has been a staple product for many years for the online human growth hormone supplement retailer. But like all of HGH.com's products, they continually make upgrades to their formula's to improve them and make their customers happy.
Dan Smith from HGH.com said, "We always take customer feedback and mix it together with the latest advances in science to bring the best supplements to the market. We believe our new Roid Juice, like our latest A-Max upgrade just announced a couple weeks ago, will be a success and any one who uses it for lean muscle gains and increased strength will be very happy."
Roid Juice contains four main active ingredients: Shilajit, DHEA, Tribulus, and Vitamin E. These ingredients are linked to increasing testosterone levels, reducing body fat, and increasing lean muscle. To read more about the ingredients and how they work, visit http://blog.hgh.com/2013/08/how-new-roid-juice-will-help-you-build.html.
Roid Juice is available today at HGH.com and HGH.com is offering the same buy two get one free special they offer on most of their supplements.