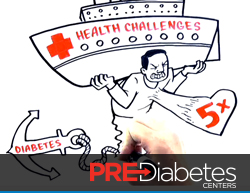 Austin, TX (PRWEB) June 18, 2013
PreDiabetes Centers is excited to announce the release of a new animated diabetes health film in efforts to make people more aware of the dangers of type 2 diabetes, a serious health condition that affects how the body uses blood glucose, which can cause dangerous long-term health disorders.
Titled "How to Improve Your Health with One Simple Test," the short film explains who's at risk of developing diabetes and why it's important to catch the condition in its earliest stages.
About 80 million people have prediabetes, the condition that comes before a type 2 diabetes diagnosis. That means that one of every four Americans is "a ticking time bomb," as the film's narrator explains. Most people are unaware that they have the disease and will go on to develop type 2 diabetes within three to 10 years.
"It's our intention to draw awareness to serious health consequences of prediabetes, a condition that the American College of Endocrinology termed 'America's largest healthcare epidemic,'" said Randy Marfin, CEO of PreDiabetes Centers.
"We feel that this entertaining film underlines the importance of being screened for prediabetes," said Marfin.
Once a person develops diabetes, he or she is faced with a mountain of health problems.
People with diabetes can develop nerve damage, kidney disease, high blood pressure, high cholesterol, gout, and loss of sight. Diabetes also increases risk for coronary heart disease, stroke and certain cancers, including pancreatic and uterine cancer.
Many people ignore the symptoms of diabetes because they develop gradually and may be dismissed as nagging, minor health problems. Many people who are developing diabetes experience increased urination, as extra glucose in the blood soaks up water throughout the body and is released through more frequent urination. This can lead to dehydration and excessive thirst. Other symptoms of diabetes include tingling and numbness in the hands and feet, blurred vision, frequent infections, unexplained weight loss or weight gain, and fatigue.
The engaging animated film encourages viewers to take control of their health by signing up for a free prediabetes screening.
Some people may believe they're in the clear after being screened for diabetes at their doctor's office, but those basic, traditional tests usually screen only fasting blood glucose and hemoglobin A1c.
The PreDiabetes Centers advanced blood test looks at many more in-depth biomarkers, or chemicals and proteins in the blood that can indicate disease. The health markers screened in the complimentary test include adiponectin, homocysteine, C-reactive protein, testosterone, thyroid hormones, C-peptide, insulin, vitamin B 12, vitamin D, cholesterol, and HOMA-IR (a calculation of insulin resistance).
To get more information about diabetes risks and symptoms, watch the video!
PreDiabetes Centers is a privately owned company based in Austin, Texas, that specializes in the prevention and treatment of diabetes. Treatment at the Center is customized for each client and is based on physician-directed care and lifestyle intervention. The company offers free biomarker blood testing that can detect prediabetes, and also continuing biomarker tests throughout the personalized program to ensure that metabolic processes in the body related to prediabetes are being reversed.